New Laws in Effect in New York State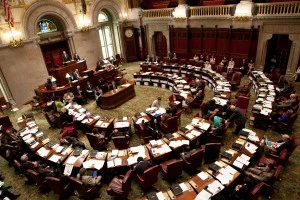 Several new laws are now in effect in New York State. There is a new tax credit for businesses hiring military veterans.
There is a new Homeless Veteran Assistance Fund.
Corporate tax reforms are being phased in, estimated to save businesses over 200 million dollars this year and over 500 million dollars a year by 2019.
Businesses can take advantage of tax incentives for hiring people with developmental disabilities who work full time for at least 30 hours a week.
New York is also requiring employers to be fined $50 a day for failing to provide new workers written notice in English or their primary language the exact rate of wages, whether hourly, daily, weekly, shift, salary or commissioned as well as tip and living allowances.
New laws are also in place for protecting people with disabilities, firefighters, people in adult homes and protecting minors from identity theft.
Another new law makes it illegal to needlessly pierce or tattoo pets but still allows some markings for identification purposes in limited circumstances.